My name is Nathan and I have been a Whitsundays and Airlie Beach SEO specialist for 7 years. Over this time I have helped many local, national and international clients achieve their goals of more online sales and leads through better rankings in all major search engines.
What is SEO?
SEO stands for "search engine optimization." In basic terms, it means enhancing your website by telling the major search engines what your business is, and what makes you an authority in your niche market.
All businesses and major search engines including Google, Bing, Yahoo, Duckduck Go etc, want the same thing, to give potential customers the answer or product they are searching for. To do this we need to enhance your visibility in search engines
The stronger visibility your pages have in search results, the more likely you are to pick up awareness and appeal to prospective and existing consumers to your business.
as the saying goes " if you want to hide your dirty laundry, add it to page 2 of Google" Page 1 is the goal and always will be.
How do we increase your website SEO and visibility?
On-Page SEO
First and most important we need to learn about your business, what services you have, what products you sell, what your business goals are etc. From here we will take this information and run it through our SEO software and find what your customers are searching for, what keywords (what they type in search engines) they use, what questions they ask etc.
Stage 2 of on-page SEO involves taking these keywords and finding the ones that are most frequently used (search traffic) ,and how easy they are to rank on page 1. We break this down into 4 categories
Very Easy
Easy
Medium
Hard
Once we have this detailed report we start the process of optimising your website, this can include
Optimising your existing pages
Adding new target pages
Headings
Meta titles and descreptions
Website copy
Image optimisation
Page speed
Mobile optimisation (did you know google now ranks you by the mobile version of your website?)
Core Web Vitals
Now, I will be the first to admit I'm not telling you everything here, the above lists are a generic response to what we do. The difference between us and my competitors is…. I know how to do this properly and not use a free plugin (software) to do a 20% job.
When I finish working on your Whitsundays and Airlie Beach SEO service, you will pass all core web vitals that Google and major search engines are looking for. You will have articles and landing pages that bring in more traffic and will rank in Airlie Beach and the Whitsundays, or national if that's what you need.
Off-Page SEO
This part can make or break your website, and should only be left to someone you trust 100%. off-page SEO is about building brand awareness across the web and hopefully, you will get a backlink to your website.
Here at Ripple Effect Online, we believe in building your brand manually, all work we do on offsite SEO is helping Google discover your business on other reputable websites that already have authority as an Airlie Beach and Whitsundays trusted brand. How do we know this? We built them ourselves, or we have scrutinised these local sites, and know they will give you a ranking boost without any chance of penalties or spam.
If you take one piece of advice from reading this article today then take this.
Stop looking for a quick fix and paying SEO firms thousands of dollars a month for minimal results, they dont know your business and they dont know this region. Trust me I have been there 9 years ago and it's not pretty. I have since lost 3 of my original websites from when I started as these companies do nothing to help your brand and decrease it by adding you to websites that are being penalised by Google.
I am always happy to just talk if you have questions about our Airlie Beach SEO service, just please call me before making any rash decisions that will affect your website for years to come. (yup getting a site removed from a Google penalty is a long process)
Local Airlie Beach SEO (Google Maps)
Local SEO is different to normal SEO but they do tie in together. Have you ever searched for a service term EG "Whitsundays Website Designer" after the adverts at the top you will see 3 Google business listings below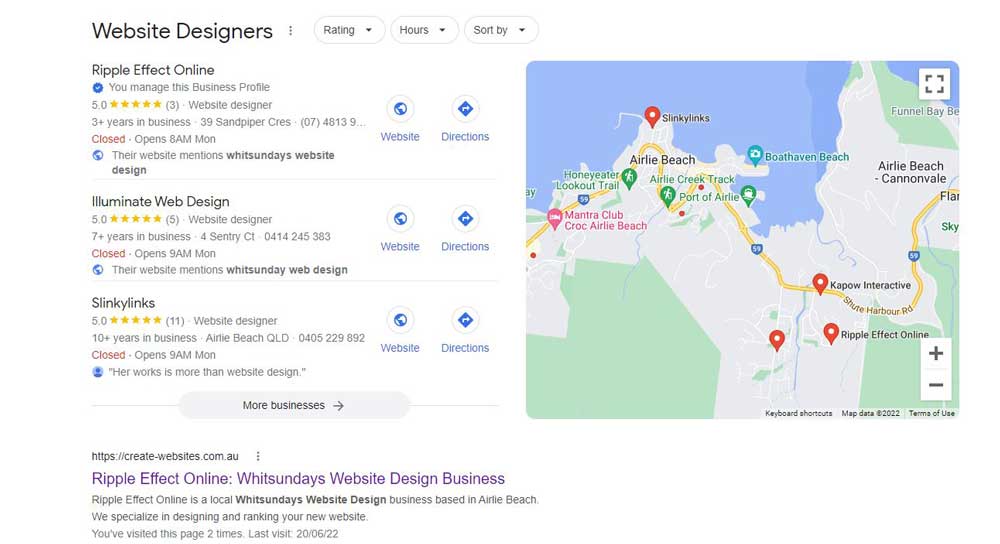 This is Local SEO and it ranks above Google and Bings' normal rankings, being in the top 3 of this list is imperative for a local business.
As you can tell by the above results, we can get your business in the top 3. We have ranked over 12 Airlie Beach and Whitsundays SEO clients in the top 3 of Google Business Listings, How? good practices that let Google know you are the authority website on the service or product that potential customers are searching for.
Conclusion
I have been in Airlie Beach since 2001, and have had positions as head of marketing at tourism companies, owned my own travel agency on the main street, and worked remotely for businesses over Australia and New Zealand.
We are here to help you get more customers by ranking your business website in a position that will gain more traffic. We are also here to guide you on how to convert that traffic and get awesome reviews after the service.
Contact me today to discuss your Whitsundays and Airlie Beach SEO plan and kickstart your business today.