We have all searched google online for a service or product and seen this….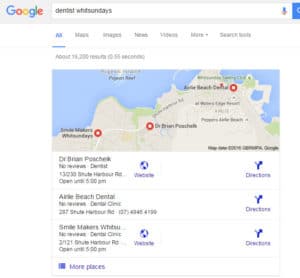 But how do we get our business to show up in the Top 3 of places results? it's not that hard and with a little bit of persistence, you will get there in no time.
Make sure your business listing is verified on Google. To do this go to Google My business and run a search for your business. if you find your business claim it and verify it. if your business does not show up register your business and verify it. Verification can take up to 2 weeks as they send out a postcard with a code
Once you have your business page verified, you need to check that your business is registered in the correct category. Google uses this to show you in search results so make sure you get it right.
Check that the name, address and phone number of your business are registered correctly on Google Business. In local search, this is what Google uses to see whether your business is relevant in the local area.
Once you have checked that your name, address and phone number (NAP) are the same on Google business and on your website you need to work on getting your business on as many business directories as possible and making sure your Name address and phone number are on all of these directories
For your business to stand out in the above picture you need to make sure that your business has reviews. ask your everyday customers to sign in to google and review your business. the easiest way to do this is through google maps.
It's easy if you have the time, and if you don't….. we are only a phone call away